Den Vandrande Vålnaden
utkom med 9 nummer under 1996. Efter dessa lades tidningen ned.
Tanken med den var att ge ut Sy Barry's vardagsäventyr i kronologisk ordning.
Tidningen sålde dock inte tillräckligt bra för att få fortsätta.
(9 numbers of Den Vandrande Vålnaden were issued 1996. After that the comic was stopped.
The idea was to publish the Sy Barry daily stories in a chronological order but the comic didn't sell enough.
Den Vandrande Vålnaden

No

Swedish title

English Title

Source

Published

1

Flykten från fängelset

The Slave Market of Mucar, pt I

D82

21.8 - 30.11.1961

2

Slavstaden

The Slave Market of Mucar, pt II

D82

1.12.1961 - 10.2.1962

3

Oxgudens mysterium

The Epidemic

D83

12.2 - 16.6.1962

4

Hamnpiraterna

The Wharf Rats

D84

18.6 - 13.10.1962

5

Krig i Djungeln

The Mysterious Ambassador, pt I

D85

15.10.1962 - 12.3.1963

6

Tyrannens fall, del 1

The Mysterious Ambassador, pt II

D85

14.3 - 1.6.1963

7

Tyrannens fall, del 2

The Mystery of the Island of Dogs, I

D86

3.6 - 16.9.1963

8

Tidsbomben

The Mystery of the Island of Dogs, II

D86

18.9 - 14.12.1963

9

Timpennis trummor

The Great Drums of Timpenni

D87

16.12.1963 - 21.3.1964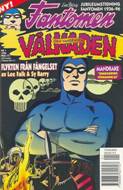 nr 1